Role: Lead UX designer
Year: 2019
Project overview and summary
Project overview
Background
The ask: Create a design brief and application of your choosing
The challenge: Create an application with all the project deliverables in a short period of time
Duration: 4 weeks
Platform/device: iPhone
Roles and responsibilities
My role: UX designer and team lead
My team: Myself and one other individual
I was responsible for:
Lead UX design activities and research

Concept creation and execution

Researching competitive landscape

UX design

Wireframing (lo and hi-fi mockups), prototype creation
Software used in this project: Adobe XD
Project summary
The problem: There are no pedestrian or bicycle friendly travel applications on the market designed for leisurely travel. The current app landscape provides users with utilitarian travel information, but not much exists for the leisure side of exploring. It becomes hard to discover new locations, hidden gems, and information regarding safe and unsafe locations in new locations for users using existing applications.
Purpose: To build a unique approach for users to explore new and old destinations.
DiscovMap is a pedestrian friendly travel application, which utilizes user-generated information and points of interest to generate leisure friendly routing options.
DiscovMap would be the opposite of utilitarian based map applications, which are only concerned with providing the user the quickest or shortest route from Point A to Point B. DiscovMap is designed to help the user discover new, interesting locations and points of interest in cities around the world.
Business goals
Create a unique travel experience for the user

Appeal to as many travelers as possible

Encourage users to interact and share in the experiences we create for them

Provide a high level of customer satisfaction

Build brand awareness and drive sales

Generate revenue and achieve ROI
Application objectives
Provide unique experiences in new and old travel destinations

Get customers to sign up and create an account

Educate travelers with useful tips and advice to make better informed travel decisions

Connect people with a shared passion for travelling and build engagement in a community platform where everyone is free to ask questions or leave comments
Application features
Ability to download map and directions offline so that users do not have to purchase expensive international data plans

Provide different routing options for walking, biking, and scootering such as most safe, fastest, or scenic, and interest-based routing with more shopping, food, or nightlife

Provide user reports such as information about emergency services, hazards, road closure, clean bathrooms, drinking fountains, landmarks, great spots to take photos, and high crime areas based on statistics and user commentary

Feature geocache locations, allowing users to pick up comments or notes left by other travelers. This is activated when in that area.

Ability to click on landmarks, restaurants, hotels, and attractions on the map to view description and reviews

Ability to bookmark locations that may interest the user and save their destinations in their collection folders to view later

Provide recommendations to users based on their previous trips or popular spots nearby

Provide access to a safety button which allow users to share their location and trip status with their family and friends or call the police directly within the app and quickly share their profile and location with emergency dispatchers
Additional features for a later update
Ability to populate the map with third party bike-sharing and scooter- sharing companies. Companies such as Lime scooters and Toronto Bike Share use their own apps to locate available bikes and scooters. This presents a problem to the user as they end up having to use multiple apps depending on availability and location. By incorporating third-party companies into our app, the user will have a more streamlined experience

Offer geo-cached business coupons and marketing offers to users as they walk past businesses. The coupons and offers will only be available to the user when they are within a certain proximity of participating business

Feature a user aggregated style of information sharing, similar to Reddit. Users will have the ability to upvote or downvote content in the app that is deemed useful or helpful. This becomes particularly useful for sharing tips and notes in locations around the world. The more popular comments will remain, while negative comments become disregarded

Provide voice command options. This will give users the ability to speak commands to their device in their native language

Ability to allow users to share their locations live on the map with their selected friends if they choose to. If a friend travels to a city the user is in, the app will notify the user that they have a friend close by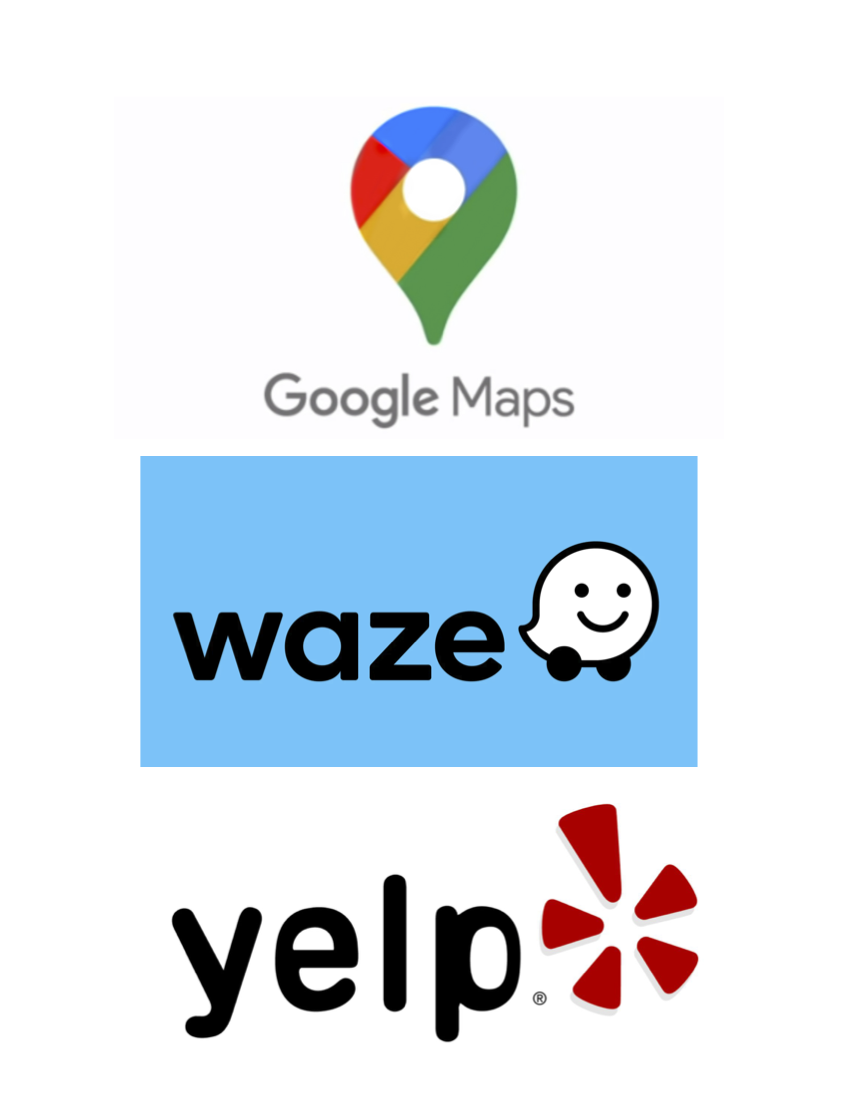 Competitive landscape
Google Maps (International competitor)
Google Maps is a standard utilitarian navigation app that provides route for those walking, biking, or using public transit, in addition to driving. The app also offers distance and estimated time of arrival to help users plan their travels and organize their schedule. The map displays the location of various businesses and points of interest, making it useful for getting an overview of the area and seeing what else is near the users' destination.
Waze (International competitor)
Waze is a community-based utilitarian traffic and navigation app which works like a crowdsourced social network that provides direction working alongside with community feedback. Unlike Google Maps, Waze is only geared towards the driving community and does not currently support navigating in lanes dedicated to public transportation or bicycles. Users are able to actively alert others on accidents, alternative routes, road closures, police officer sightings, and other such impediments.
Yelp (International competitor)
Yelp is a user-generated review platform which allows users to discover local businesses like restaurants, bars, and other services such as home cleaning and event planning. Users are able to rate places and services and leave feedback on their experience. The app also provides a geolocation and location-based search which allows users to find places near them with an option to check-in. Yelp offers a feature that lets users share photos and videos in their reviews.
Measure of success
General application
Mobile downloads (iOS and Android). A general linear progression in the number of people downloading the application within the first 6 months period after launch

User growth rate

Revenue generation per user
User engagement
Retention Rate: People using the application for more than one trip

Sessions: How many times users interact with the application

Time Usage: The amount of time spent within app

Rating: User score across mobile platforms

Reviews: Feedback provided by users

Features: What percentage of the features offered are people using
Things to overcome
Presenting the different features in an engaging, useful and easy manner

Lack of user generated content and engagement within the app

Users trying to use the application in a traditional utilitarian sense

Users may not want to adopt or switch over to a new app that they are unfamiliar with

Many competing navigation applications that already exist in the market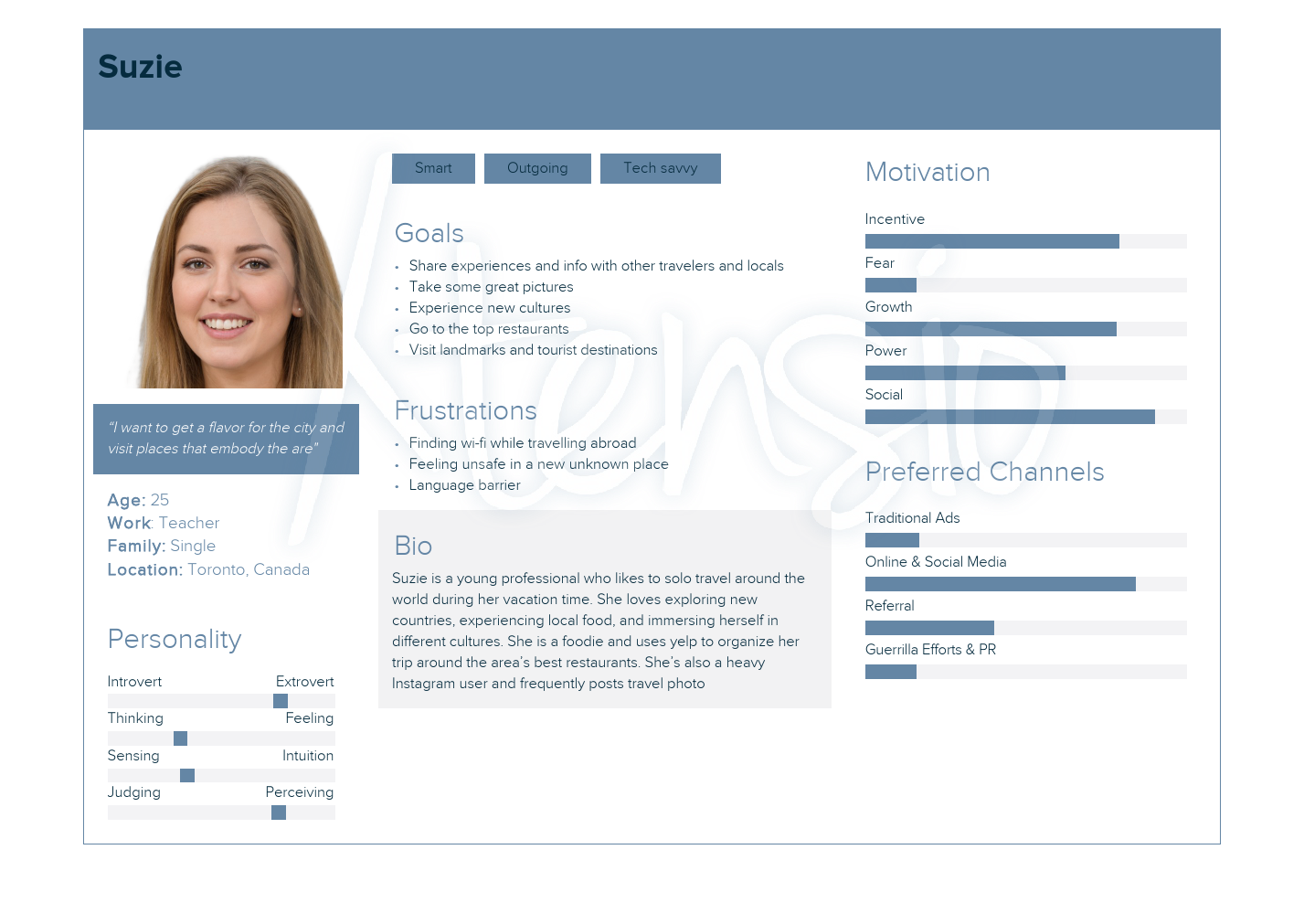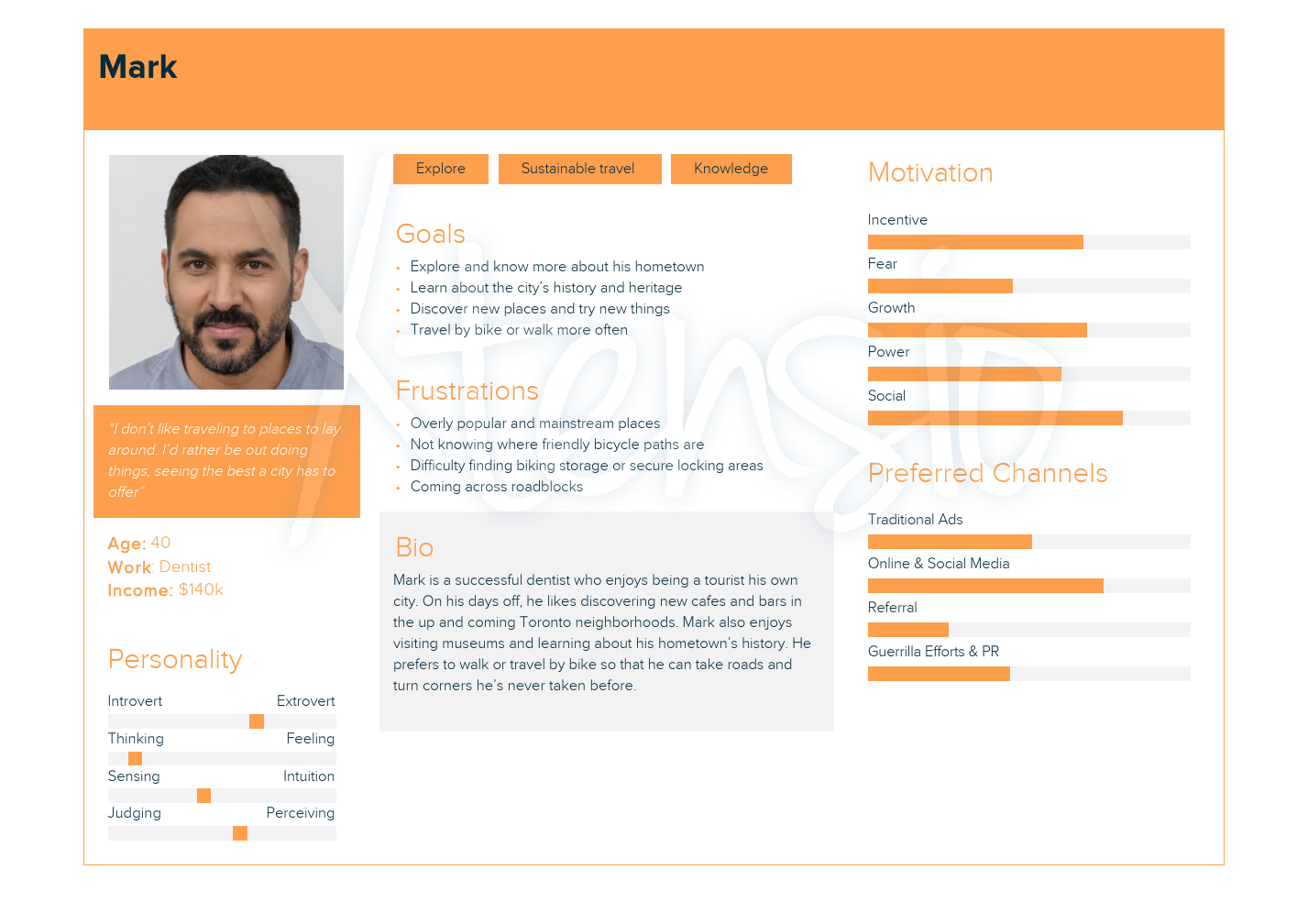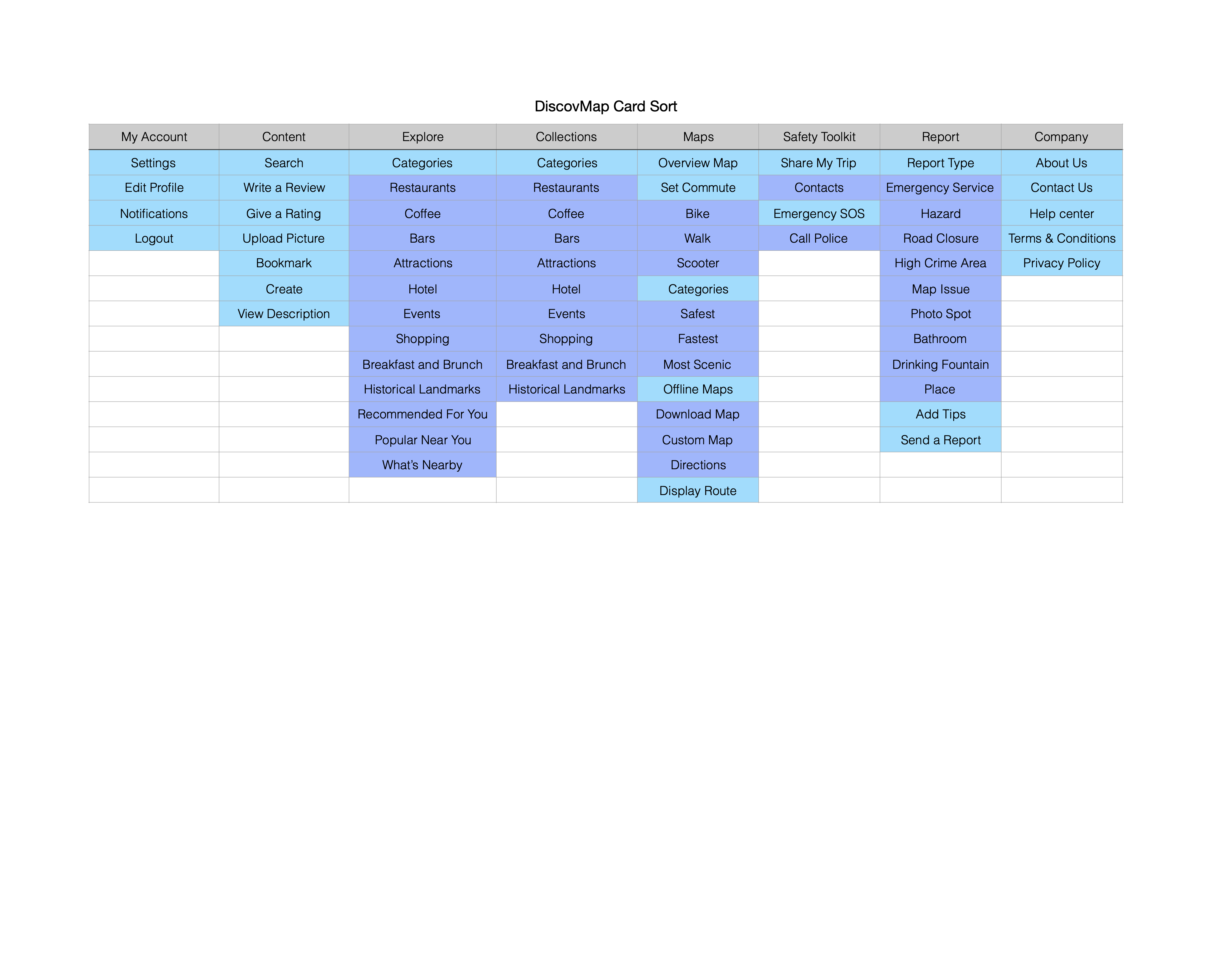 Layout and card sorting
Once the personas were created, all the necessary features were identified and mapped out for the first iteration of the application. Once the necessary features were identified, 5 individuals were asked to conduct a card sort to determine the features organization and hierarchy. After multiple card sorts were conducted, the most intuitive and user friendly layout was selected.
The goal was to create an easy to use interface, while providing detailed features the user would actually want to use.
Once a well designed layout was established and selected, the next step was to create the user journey.
User journey
The user journey was mapped out based on the created personas. Scenarios were created to determine the path the user was likely to follow, which helped identify any flaws or missing features in the apps initial iterations.
To help with creating the user flow below, text based user flows were created for each step the end user would take to access certain features. Once all the identified user paths were mapped out, a user visual flow (below) was created.
Example 1
Persona #1: SUZIE
Suzie lands in Paris and logs into the DiscovMap application to see recommendations of things to do in the city. The app auto populates a list of restaurants and activities she might like based on her previous trips and other users' suggestions. The app recommends Suzie to check out the Louvre, as it matches well with her user preferences. She wants to add this to the list of things she wants to do in the city.
Open App > Login Screen > Homepage > Explore > Recommendations > Categories - Museums - Louvre > Save to Collections
Example 2
Persona #2: Mark
Mark is looking for a mobile app that would not only help him get to where he needs to go, but also help him discover new places to eat and things to do around him. He decides to download DiscovMap, but before he could start using the app, he needs to sign up first.
Open App > Sign Up > Fill Out Form - First Name, Last Name, User ID, Email, Password > Confirm Sign Up > Login > Enter User ID and Password > Homepage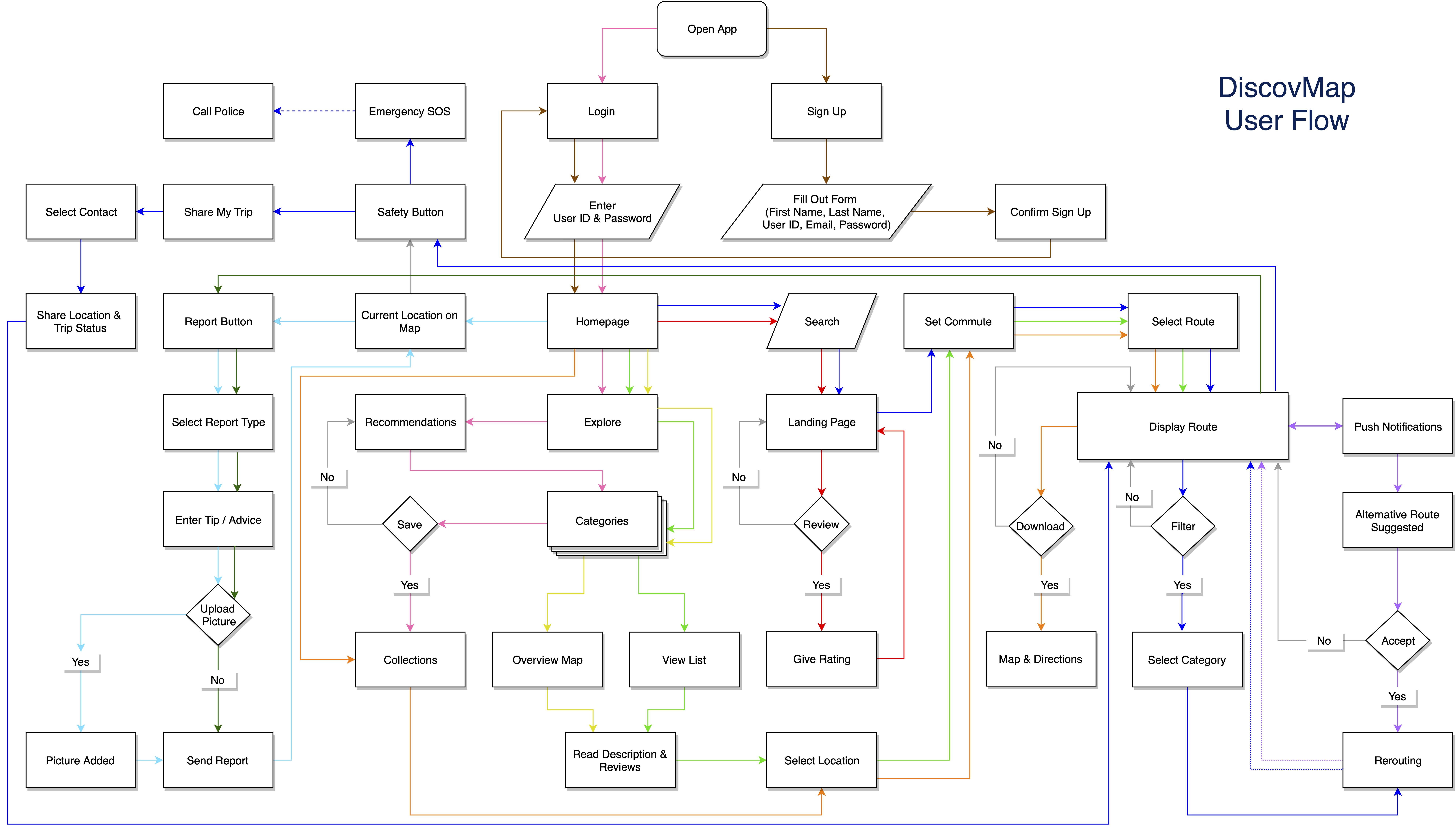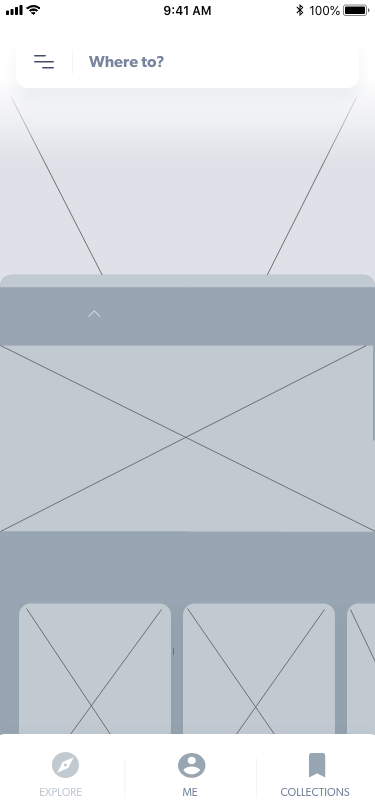 Lo-fi wireframes
Lo-fi wireframes were created to see if the projected user flows worked in practice. A general layout and aesthetic was created before investing a lot of time in a high-fidelity mockup.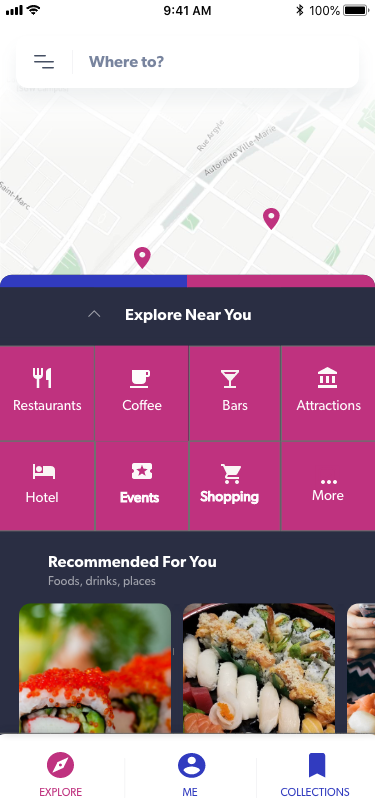 Hi-fi wireframes
Once the lo-fi mockups were created and we were happy with the general layout, high- fidelity versions were made.